Pop Work Group Users Calendar
Quickly display a Workgroup User's calendar in Professional
TimeTrak Professional has been enhanced so that you can quickly pop the calendar of one of your Workgroup Users directly from the Workgroup Calendar.
This will assist schedulers in being able to see the full day or week of individual Workgroup members' calendars.
In this example we have a Workgroup entitled 'Field Staff'. To view one of the Workgroup members' individual calendars, simply double click on their 'name'. For this example the User is 'David', double click on 'David':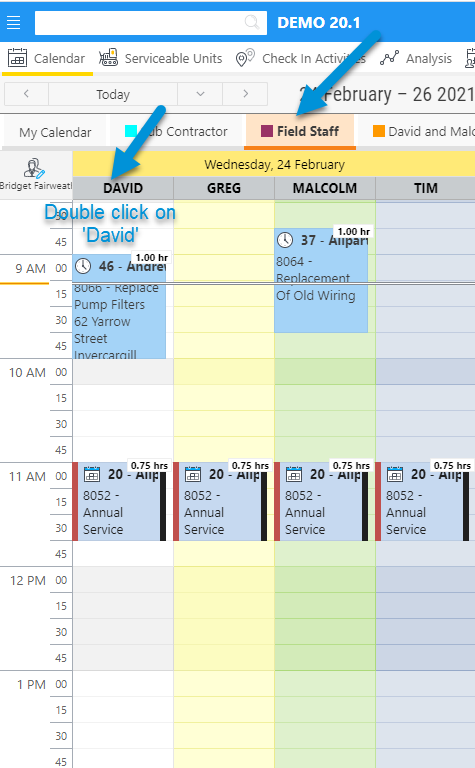 David's 'individual' calendar for the selected day displays in a separate window.
Here you can adjust the view to a work week view (which will be remembered when double clicking to open another users calendar).
This User Diary view can be adjusted in size and has the normal functionality of a standard calendar view with being able to select dates, add/edit/delete appointments and time entries etc.:
Once finished, choose 'Close' to return to the main calendar view for the Workgroup.
If you have any further questions, please contact the Exosoft team via email: support@timetrak.co.nz or phone NZ: 0800 120099 AU: 1800 6080 77