Job management solutions for everyday business
TimeTrak gives you the flexibility to manage projects, jobs and teams from any location, using just the one system. It's the answer you've been looking for.
Designed for businesses in service-based industries, TimeTrak helps you to manage multiple jobs or tasks at once with software that has all the information you need in one place. TimeTrak can assist your business to increase profits, work smarter, and provide better service to your customers. Streamline how your business works from the initial contact and quote through to final invoicing or ongoing support.
Whether your staff are out in the field or in the office they can manage jobs, projects, scheduling, quotes, inventory, workplace safety, other team members plus a whole lot more.
Make your field staff's days easier with our TimeTrak app, which allows them to lookup information, see their schedule or log their time all from their phone or tablet – no matter their location. Find our app on Google Play or the App Store.
Testimonial
For Cobalt, TimeTrak is ideal for their technicians who work off-site. "You can have a client with a job that's in multiple locations. The history information of those assets needs to be available. With TimeTrak, it's accessible off-site and you can make changes instantly, in real time.
- Eddie Russell, Owner Cobalt EDS
Features you'll love
Let TimeTrak change the way you work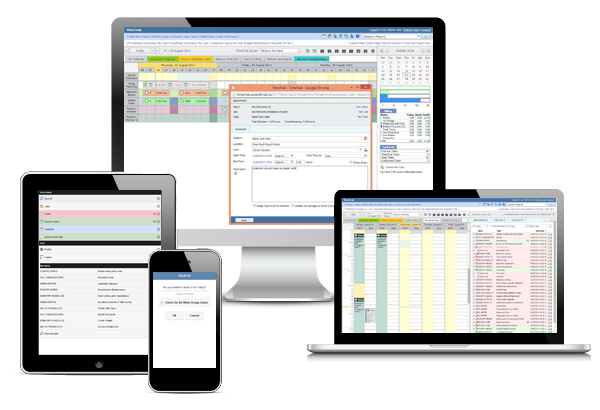 Do you want:
Full visibility of your business activities.
Access to vital information from wherever you are.
Electronic timesheets and job information so you can stop chasing staff.
Seamless job scheduling and invoicing.
Manage projects from start to finish with one system.
Plus, so many more features that can minimise time spent on administrative tasks.
Our most popular products
Case Studies
Some of our clients