Project Management
Better project management with TimeTrak
With TimeTrak's project management features, you can manage tasks and dependencies, check progress and milestones, and manage schedules.
Our cloud-based TimeTrak project management feature allows you to get a better visual representation of where your project(s) currently stands. It enables you to efficiently manage single or multiple projects.
TimeTrak provides you with a platform to define, prepare and coordinate tasks, milestones, resources and dependencies into a comprehensive plan, while transforming project data into Calendar, Timeline and Gantt chart views. Our project management features are designed to inform project stakeholders how the project will be managed, make decisions and deal with project risks and constraints.


Project management made easy
TimeTrak allows you to view and manage projects in a way that works best for you. The Gantt Chart display shows your tasks and dependencies horizontally but you are also able to see a list view of the task for the project. This includesng the start and due date, estimated and actual time spent plus the percent of the schedule progress.
You can change how you view the information. View all tasks, sub-tasks, milestones and deadlines or simply view only the project milestones. Zoom in and out to show a wider or shorter timeframe. Our Gantt Chart is colour coded which enables you to quickly see what is happening and when.


A simpler way to monitor progress
Monitoring the project progress involves keeping track of lots of moving parts. We aim to make this simpler for you.
Actual tasks progress monitoring is a key component of the project setup. With graphical representation of tasks' actual completion featured in TimeTrak, you can update the task progress without even having to open up individual tasks.
You can easily extend the start and end dates, and the bars on the Gantt Chart will move to show these changes.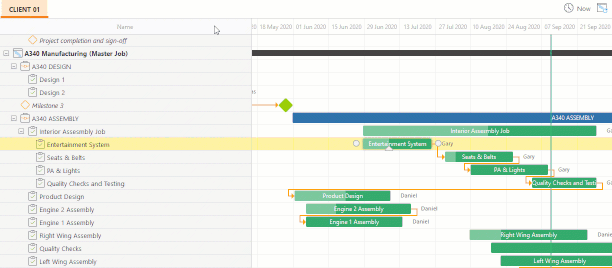 Keep your deadlines
Setting up deadlines is a great way to keep your project on schedule. Once you have setup a deadline in your project, you will not be able to push a project out past this point. Therefore, if you give a task a deadline date, it cannot be moved beyond the deadline date.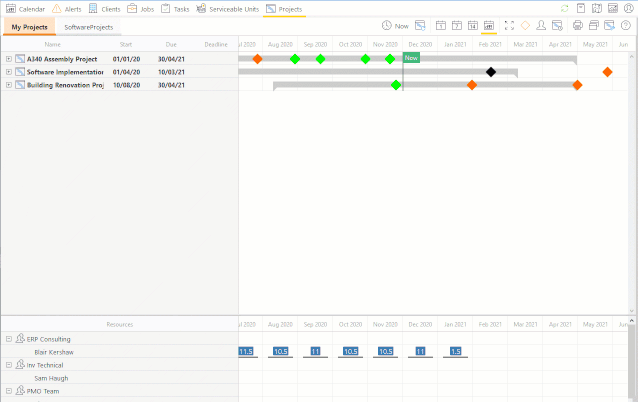 Industries
---
Project Management Products