Scheduling & Rosters
Having trouble seeing the forest for the trees when it comes to organising your team and their work?
Move away from a paper-based system with double handling and wasted admin time, and move towards a simpler solution. TimeTrak is here to help with your scheduling and service coordination.
TimeTrak is a smarter scheduling tool that allows you to see the bigger picture when it comes to organising your team and resources.
With TimeTrak, you can be sure that the right person turns up to the right job at the right time.
Calendar Management – easily manage the calendars of your team with our simple drag and drop feature. Need to move an appointment or swap technicians? Click and drag the appointment to a new person or time. Simple as that.
Conflict Management – get a higher-level view of who is available and who is not.
Queues – view and manage your team's tasks easier.
GPS Tracking – have visibility of your team's whereabouts, allowing for easier job dispatch and allocation.
Roster Replacement – team member can't make the job? This feature makes it so much easier to find a replacement in time.
Recurring Jobs – forget about having to create the same jobs over and over again. Simply create one job and set how often it needs to reoccur.
Schedule your team, find replacements or just keep track of appointments; days, weeks or months in advance. Using their own devices, your team can view assigned appointments.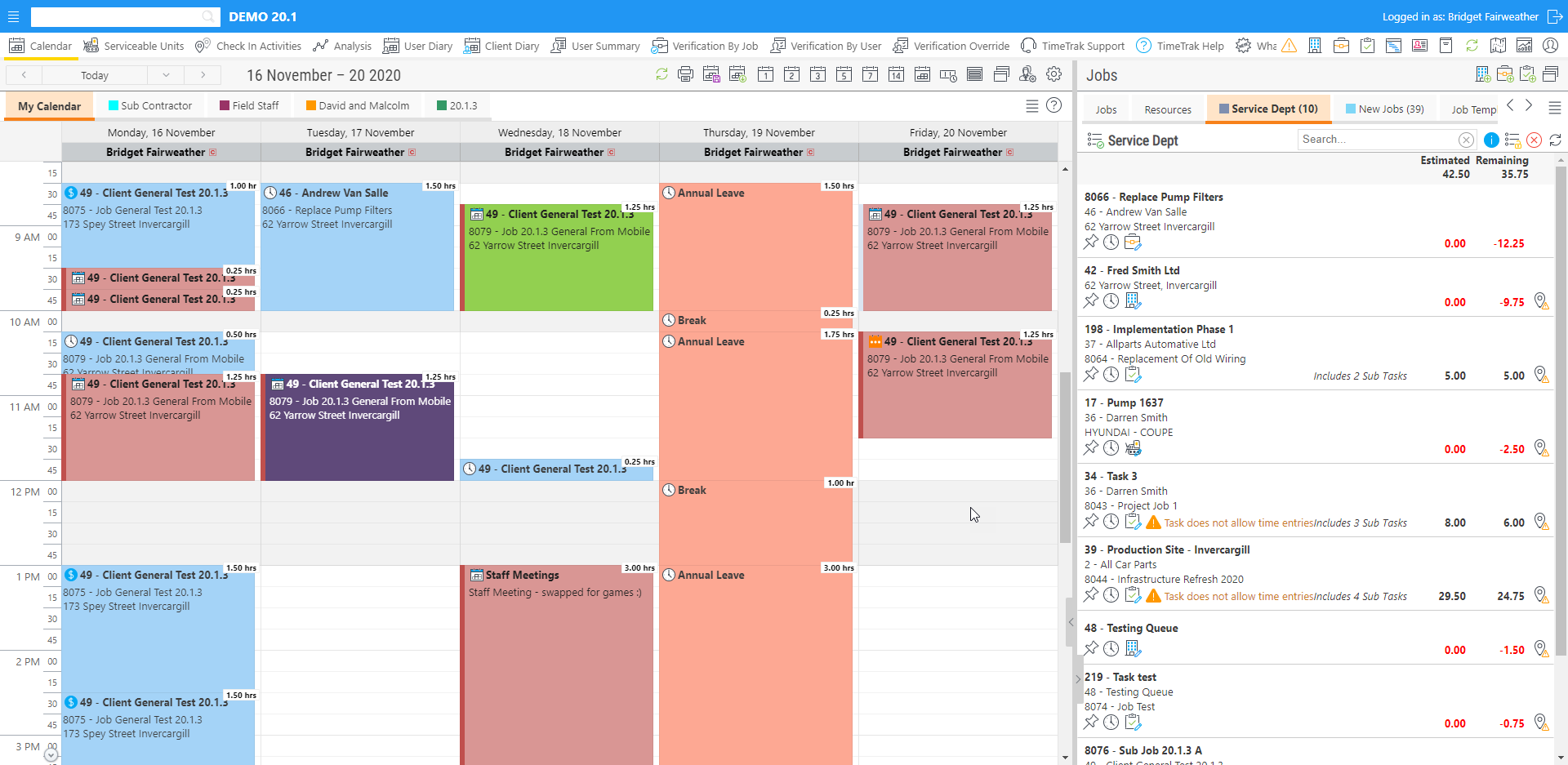 Job Scheduling made simple
Your TimeTrak calendar gives you an instant snapshot of all your resources. Sort your field techs, contractors or team leaders by workgroups or individual team members. Job management is a breeze as you simply drag and drop to assign tasks to your available staff or resources.
Need to reschedule a job? No problem. Just drag and drop the task to the changed date and time, or staff member.
Group Scheduling
TimeTrak allows you to manage whole teams rather than only individuals. With workgroups, service coordinators or team leaders can manage tasks or time for a whole team; saving time.
Team leaders can check their staff into and out of work, rather than individuals having to manage their time.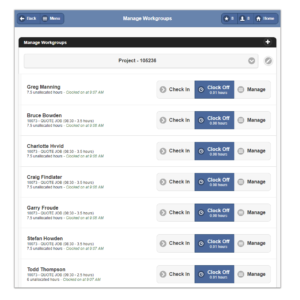 Instant job dispatch
Get instant job notifications to your team in the field. No more coming into the office to collect job information. Your team will receive everything electronically while they're out of the office.
Using their smartphone or tablet to view their schedules, field technicians view their daily or weekly tasks. They can even schedule work on-site via their own mobile device.
TimeTrak's calendar functions in real-time so any job changes you make in the office are immediate. This means everyone's schedule instantaneously updated in the field. Your team can dispatch urgent jobs in seconds, without any disruptive calls or time-consuming paperwork.
Conflict Management
This is a fantastic feature that gives Service Coordinators a higher level of visibility of their team. When scheduling a job or task, you can see which users are available to work at the scheduled time, and which users are not.
Service Coordinators are able to select whether they would like to 'Show Conflicts' or not. This allows them to view:
just the people that are available at the scheduling time
everyone and see why team members are unavailable at that time
Allocate jobs faster with conflict management.
Queues
Queues allow you to manage your staff, jobs, tasks or projects more efficiently. Order your jobs by priority or based on user location to reduce wasted admin time. The queue feature is available in both the Maps screen and the Job panel. Select an item in the queue to quickly turn it into an appointment.
Queues allow your Coordinators to essentially put a customer, job, task or serviceable unit into a temporary list (queue), so that they are able to easily allocate these to an available team member based on their calendar or geographical location.
Queues provide more than one function depending on your business environment or industry and can be diminishing in nature or enduring.
Diminishing queues. Once a queue item has been scheduled, it drops out of the queue automatically.
Enduring queues. Items stay in the queue until someone removes them or it gets moved to another queue.
You can determine job progress using Queues in large projects. For example in a manufacturing business, this feature can be used to queue a job in Assembly, it will then be moved to Painting then to Warehouse, etc.
Roster Replacement
TimeTrak allows businesses to easily manage their team's rosters. This feature allows businesses to replace team members that are unable to fulfill their roster. It was designed specifically for the Healthcare industry.
How does it work?
An example of Roster replacement in the healthcare industry. You have a medical team rostered on for the day and a nurse calls in sick. You need to find a replacement for this person. To do so, you can simply right-click on the time entry to "Request Replacement".
This will then send out an email to all possible fill-ins to accept the appointment. Once accepted, the appointment automatically gets added to that person's calendar and they will be added to the roster group.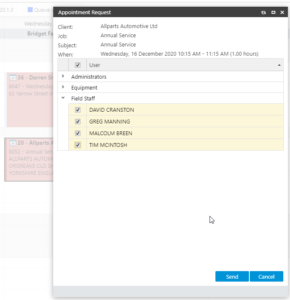 Recurring Jobs and Tasks
TimeTrak can generate a periodic or routine maintenance task automatically by generating tasks at regular intervals (i.e. daily, weekly, monthly, etc.). Tasks are saved to the Periodic task list as a template. These do not appear in the current task list. Once the previous task is completed, the next task will automatically be created.
Manage your maintenance tasks (preventative, contract, routine or periodic) to reduce wasted time doing administrative tasks.
Recurring appointments with slippage. When the date of an appointment with recurring slippage is changed, the user is given the option to move all future related appointments forward by the number of days for which the recurrence is set.
Better customer service with smarter scheduling.
On-time, every time. No more calls from customers to tell you that no one has turned up to perform a routine maintenance job. With routine maintenance jobs automatically generated and scheduled as a periodic task, you will have peace of mind knowing TimeTrak will do it for you.
Industries
---
Scheduling & Service Coordination Products