Disbursements by Job
Report Parameters:
Date Range: Quick selection to default the Start Date and End Date.
Start Date: Date you would like to run the report from.
End Date: Date you would like to run the report until.
On selection of the above parameters there is also the below parameters:
Client: Search and select the applicable client.
Job: By default only the first 100 jobs display, you can include closed jobs by enabling this.
There is an option to select All jobs, or select multiple jobs to run the report for by holding down the Ctrl key and clicking the jobs you wish to run the report for before clicking Generate Report.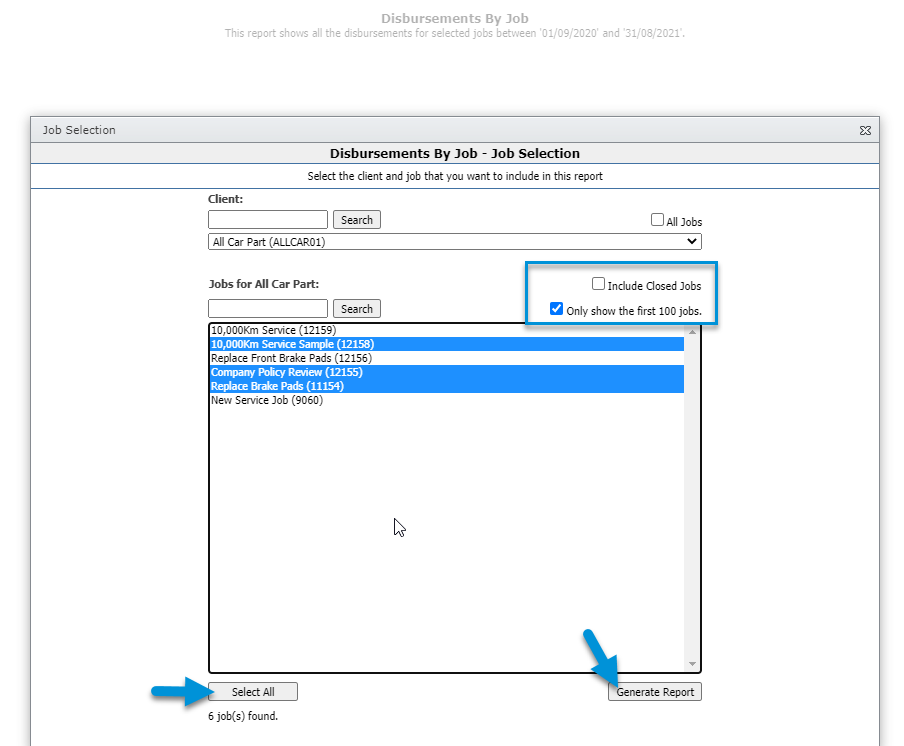 This is a legacy report written into the TimeTrak website which is unable to be adjusted.
As per below, this shows disbursements assigned to jobs directly, as well as time entries against the job in TimeTrak grouped by job.
Date the disbursement was assigned, user who assigned the disbursement, disbursement description and narration against the disbursement (if one was entered) as well and quantity and sell price are displayed.

At the top of the report there is additional tick box options:
Order By User: When enabled the disbursements will be grouped by user as well.
Exclude Exported: When disbursements that have been posted to the ERP system will be excluded from the report.