Job Billing Summary
Report Parameters:
Group: All groups (the logged in user has access to) or select one group.
Users: Select all users or a single user to run the report for
Date Range: Quick selection to default the Start Date and End Date.
Start Date: Date you would like to run the report from.
End Date: Date you would like to run the report until.
This is a legacy report written into the TimeTrak website which is unable to be adjusted.
This report is available to run from the reports drop down in TimeTrak Professional. When running from here on selection of the above parameters, there is also the below parameters:
Client: Search and select the applicable client.
Job: By default only the first 100 jobs display, you can include closed jobs by enabling this.
There is an option to select All jobs, or select multiple jobs to run the report for by holding down the Ctrl key and clicking the jobs you wish to run the report for before clicking Generate Report.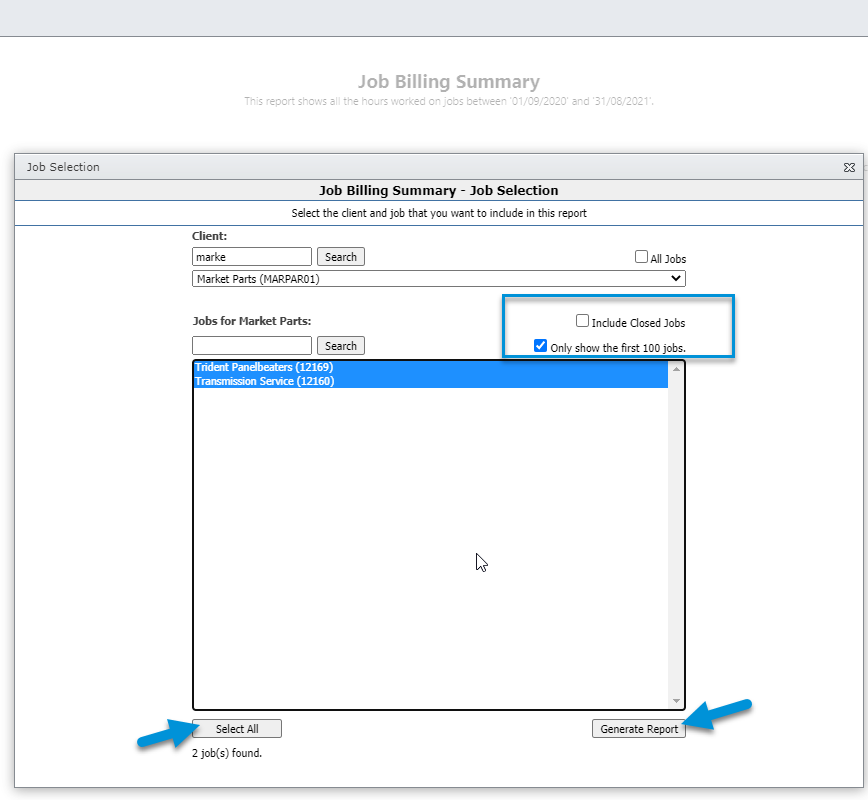 This is great report to display to provide an overview of job(s) for a client, by billable status and user per month as per below: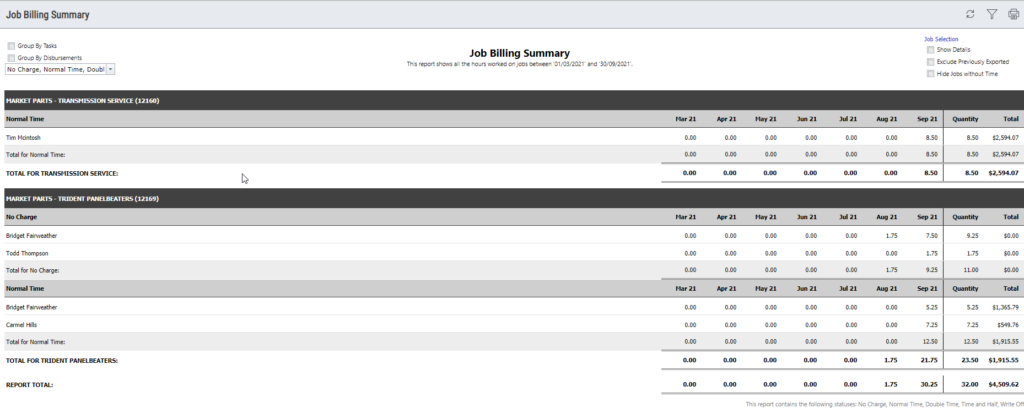 When enabled, this report is also available to be run for a single directly from the Job > Reports tab and the posting screen in TimeTrak Professional, as per below:
As well as the Verification by Job report, as per below:

At the top of the report there is additional tick box options:
Group By Tasks: If the TaskTrak module is enabled, then users are able to group the data by tasks underneath the billable status.
Group By Disbursements: When enabled the disbursements can be grouped to be displayed.
Billable Status selector: By default all billable statuses will be enabled, users can however select only the billable statuses they wish to appear.
Show Details: When enabled details that make up the values such as time and disbursements will be displayed with the date and narrative.
Exclude Previously Exported: When enabled only unposted data will be displayed in the report.
Hide Jobs without Time: When running this report over multiple jobs, if this is enabled jobs that do not have any time will no longer display.