Payroll User Summary
Report Parameters:
Group: Select users default group
Users: Select all users or select multiple users
Start Date: Date you would like to run the report from
End Date: Date you would like to run the report until
It is required for you to import both Payroll User Summary and Payroll User Summary (Sub) to use this report.

This report can be used for payroll purposes.
It is grouped by user, and displays all time entries for the period specified with job number and job title (as well as task title as applicable).
The status column indicates the billable status, whilst the billable column is the total hours for job based time entries and the Non-Billable column is Non-Billable/ Non Productive hours.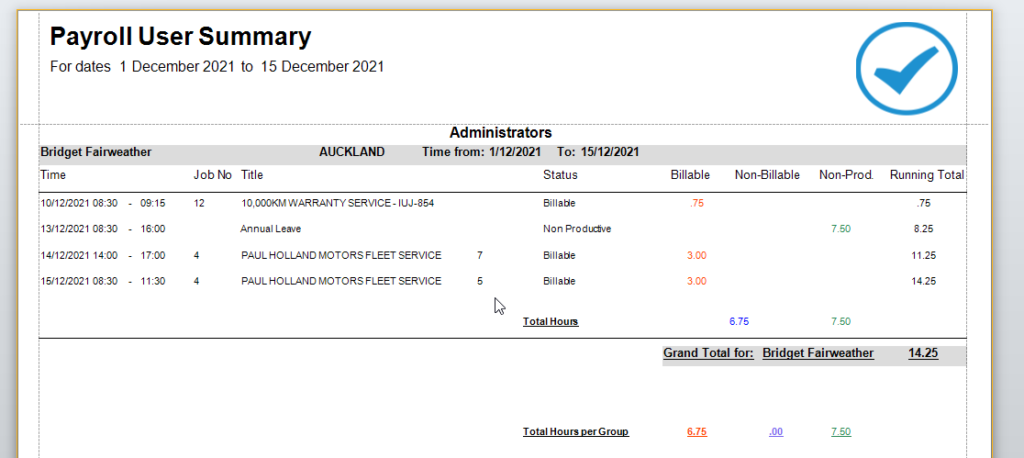 Any time classed as "break" IE unpaid lunch breaks introduced in version 19.3 as per below is excluded from this report:
https://timetrak.co.nz/blog/category/unpaid-lunch-breaks-in-timetrak/
This report has been designed in the inbuilt TimeTrak Report Designer (not built into the website) meaning once the report parameters have been submitted there is the ability to print the report as well as export the report to another file type including an excel spreadsheet.

Reports designed in the inbuilt TimeTrak report designer can be customised to meet your requirements – you can discuss this with the TimeTrak support team: support@timetrak.co.nz
These reports can also be setup as scheduled events and emailed to specified email addresses on a scheduled basis as per below:
https://timetrak.co.nz/blog/category/whitepaper-scheduled-events/