Add ability to Split Appointments/Time Entries to where the cursor is
March 11, 2022 General,Product Tips,
In TimeTrak Professional from version 21.3.4, there is now the ability to split both an Appointment and a Time Entry where the cursor is placed.
Previously, the Split function would split an entry directly in half which would then need adjusted if this wasn't correct.
This is useful to change the labour code of a Time Entry or Appointment for a portion of the original duration.
More commonly, this feature is useful for when Rosters haven't been set up to automatically split Time Entries on Save based on the Roster Class settings.
In this example, a Time Entry has been created from 4.00pm through to 7.00pm for David. This is recorded at the Standard Labour code.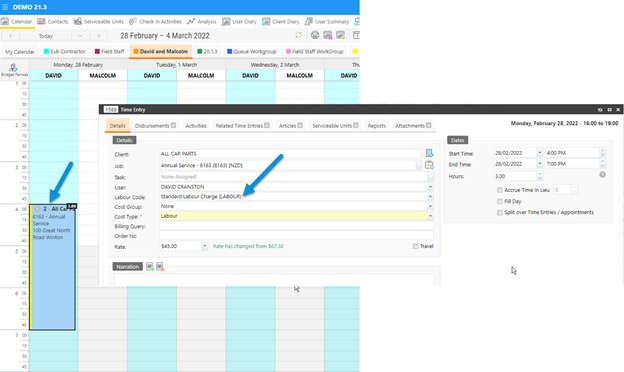 Admin/ Payroll staff would like to now record the 6.00pm to 7.00pm period of the Time Entry as Time and a Half.
To quickly complete this, click onto the Time Entry with the right mouse button at the time to make the split, in this example at 6.00pm. The pop up menu will include an option to 'Split At (18.00)':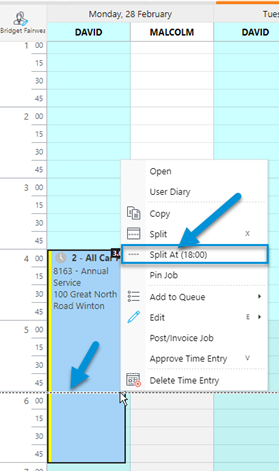 Once selected, the Time Entry has been broken into two sections. One from 4.00pm to 6.00pm and one from 6.00pm to 7.00pm.
The 6.00pm to 7.00pm Time Entry can now be selected and adjusted to the Time and a Half Labour Code;
By double-clicking and editing the Labour Code field: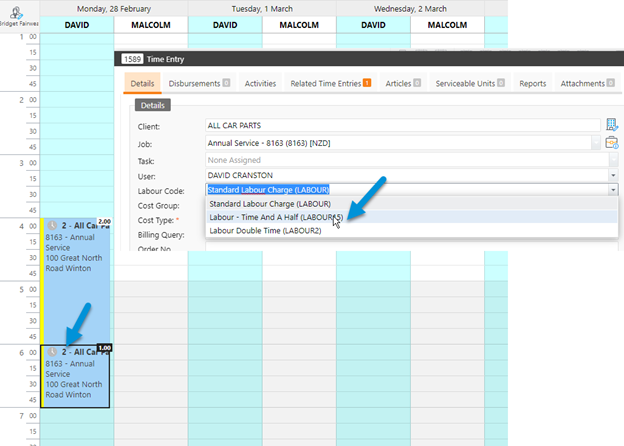 Or completing by following the right menu Edit option: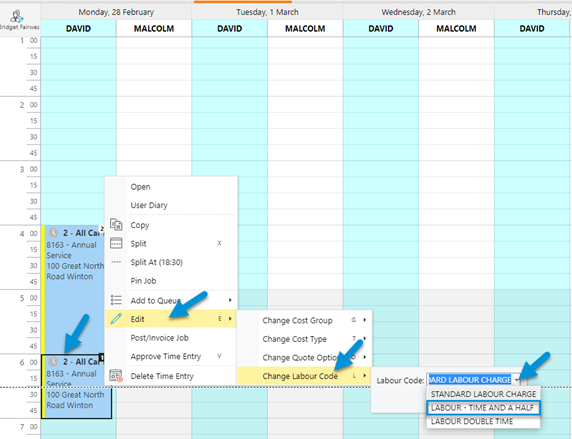 The same options are available for Appointments;
In this example, an Appointment has been made for David from 8.30am to 11.00am.
He now has a Health and Safety meeting to attend at 10.00am. Placing his mouse at 10.00am and right- clicking shows the option to 'Split At (10.00)'. This is selected;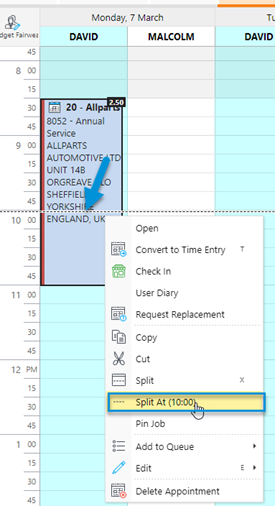 The Appointment from 10.00am to 11.00am is dragged down to 11.00am and a new Appointment is made for the Health and Safety meeting;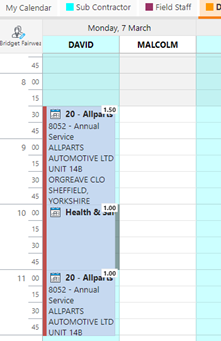 The new split functionality also works on Timeline views as in this example for a Time Entry split for 15.00hrs: