Drag and drop attachments into TimeTrak Professional
February 23, 2018 General,Product Tips,
Did you know in TimeTrak Professional there is the option to drag and drop attachments into the attachments tab of a Job, Client or Task?
Simply drag the document over the browse button "target area" until a green panel appears as per below screenshot.

Once the green panel appears you can drop the attachment and it will be added as a TimeTrak attachment against the Job, Client or Task with the defaults specified in the TimeTrak Admin Console.

These attachments are also be available in MYOB Exo Debtors or Jobs against the Documents Tab, if the Global System Setup "Link Attachments to MYOB Exo Documents" is enabled.


Please note: Any attachments added via MYOB Exo will not be available in TimeTrak, so it is recommended where possible to add all attachments via TimeTrak so they are available in both systems.
An attachment's default settings are set in the Admin Console under Global System Setup.
Whether or not the attachment is Client Visible by default is based on the below setting:
"Set attachments client visible by default in the Client Portal"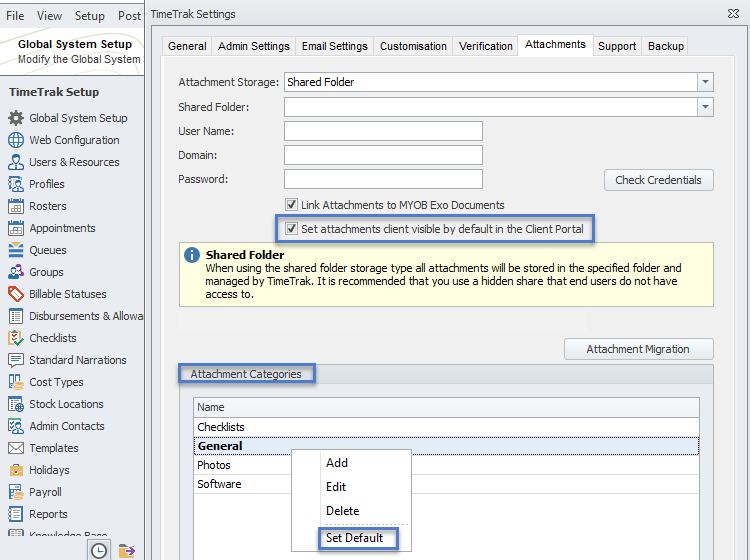 By default, an attachment will save to the category that is chosen as the default.
These defaults can be altered per attachment by clicking the Edit attachment icon below:

If you have any further questions please contact the TimeTrak team via email: support@timetrak.co.nz or phone NZ: 0800 12 00 99 AU: 1800 60 80 77