Preloaded Disbursements
August 16, 2016 General,Product Tips,
Do your business processes include the use of 'call out' fees, minimum charges or other stock items charged every time an employee assigns time to a job? TimeTrak has the ability to pre-load stock items against a user's time.
In the TimeTrak Admin Console, against the User, in the Disbursements & Allowances tab assign the stockcode and the quantity (Right click on the Item to set the Quantity) of this disbursement.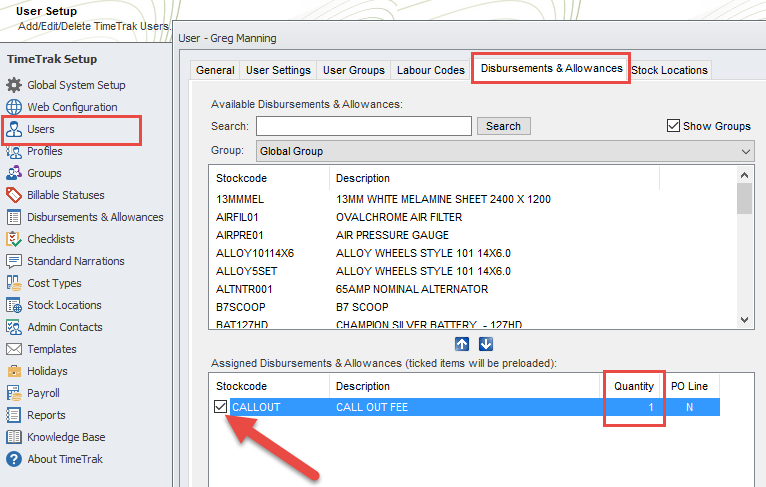 When an Appointment is created now for Greg it will default with a Call Out Fee pre-loaded into the Disbursements Tab – this can be removed at the time of Appointment creation if required.
With the above settings, Greg who is a Mobile TimeTrak user just needs to assign his time without worrying about adding his 'call out fee'.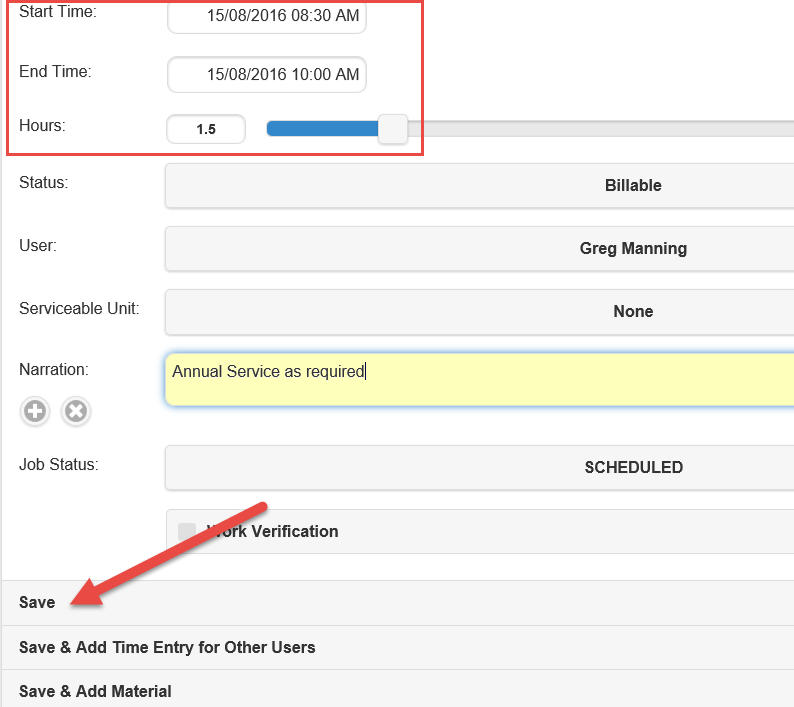 When checking the time Greg has added in TimeTrak Professional it is easy to see the added Call Out Fee in the Materials (Disbursements) tab.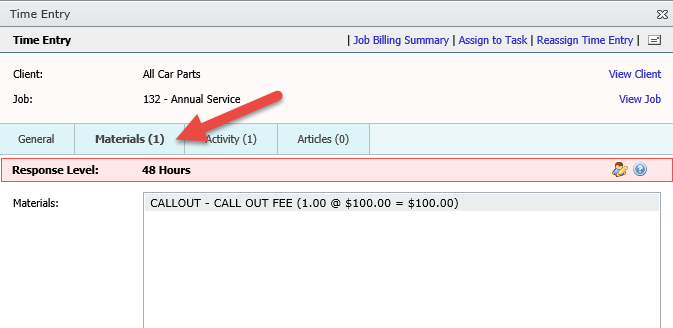 A minimum charge can also be set up as a preloaded disbursement against a user.
The Disbursement is set up in the TimeTrak Admin Console as a 'Minimum charge' and can be set against either Value or Duration. Please see our White Paper – TimeTrak Calculations for detail on how this works.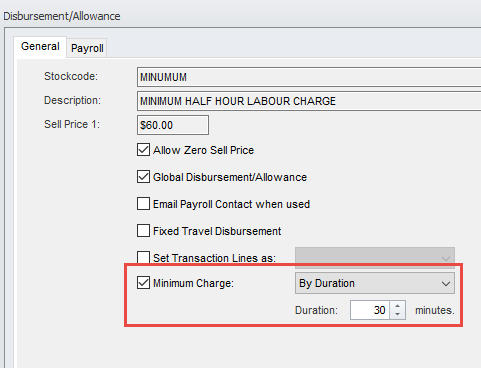 Once the Minimum Charge Disbursement is set up, it needs to be set against the user(s) it applies to: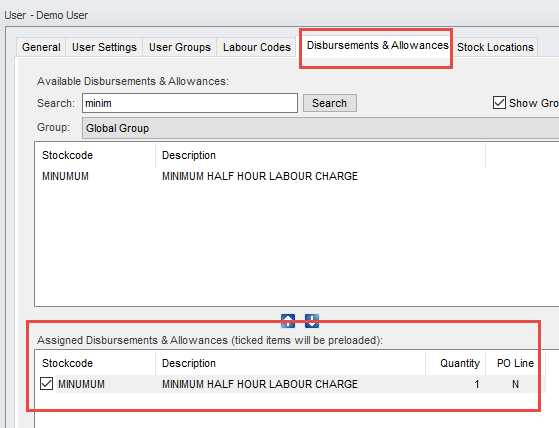 Below is a working example:
The Minimum Charge disbursement is set up to have a flat rate for the first 30 minutes.
When the user puts fifteen minutes against a job as per below they are notified the rate will be calculated using a minimum charge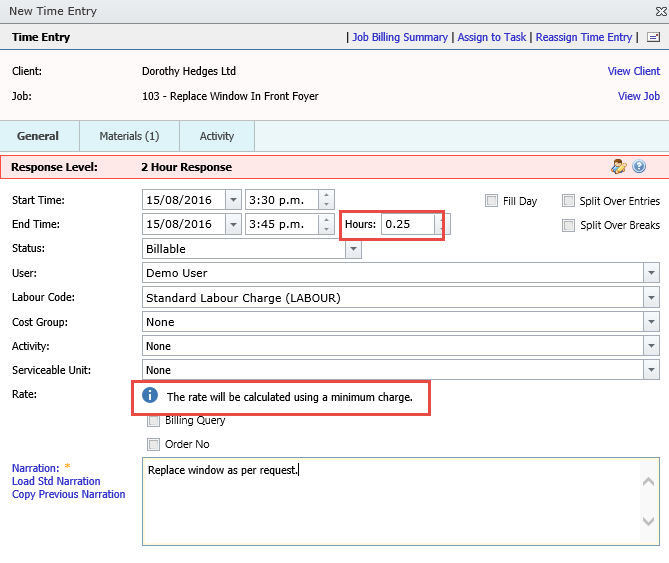 Meaning the half hour charge is brought through to the MYOB Job Costing Job as a Cost.
The time is also posted onto the Job but the value is updated to be correct for the Minimum Charge behaviour.

However, if forty-five minutes is assigned against the job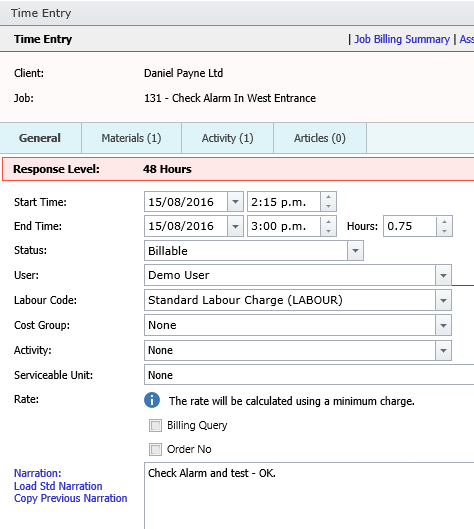 The minimum charge is brought through to the MYOB Job Costing Job as a Cost

As well as the 'time' charged but at a rate of fifteen minutes due to only charging fifteen minutes over the 'minimum charge'.
As per below the line total is only $30 instead of $120

Disbursements can also manually be added against an appointment.
A good example of this is David as per below does not have a pre-loaded disbursement against his user in TimeTrak.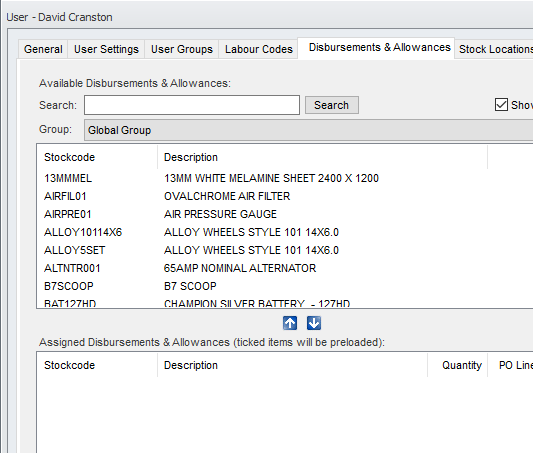 When the service coordinator creates a TimeTrak appointment for David and they are aware that a disbursement will be required for the job (in the below case an Air Pressure Gauge).
This can be loaded against the appointment under the materials tab.

When David converts the appointment to a time entry the materials preloaded to the appointment come through to the time entry.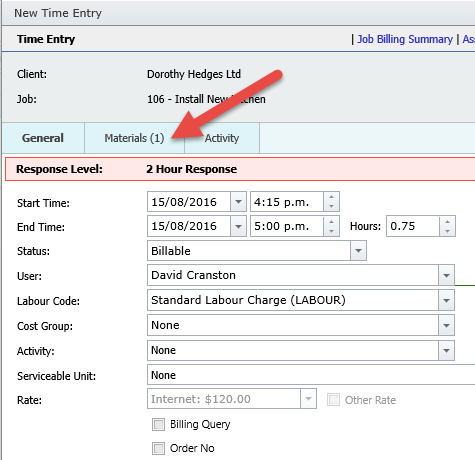 If you have any further questions please contact the TimeTrak team via email: support@timetrak.co.nz or phone NZ: 0800 12 00 99 AU: 1800 60 80 77