Restrict Stock List to User's Default Location
October 12, 2016 General,Product Tips,
Should your Mobile users only be assigning stock against jobs/ tasks if the stock quantity is greater than zero in their default stock location? In TimeTrak from version 3.2.24 this is easy to manage!
A new profile setting 'Default location quantity is greater than 0' is available as per below: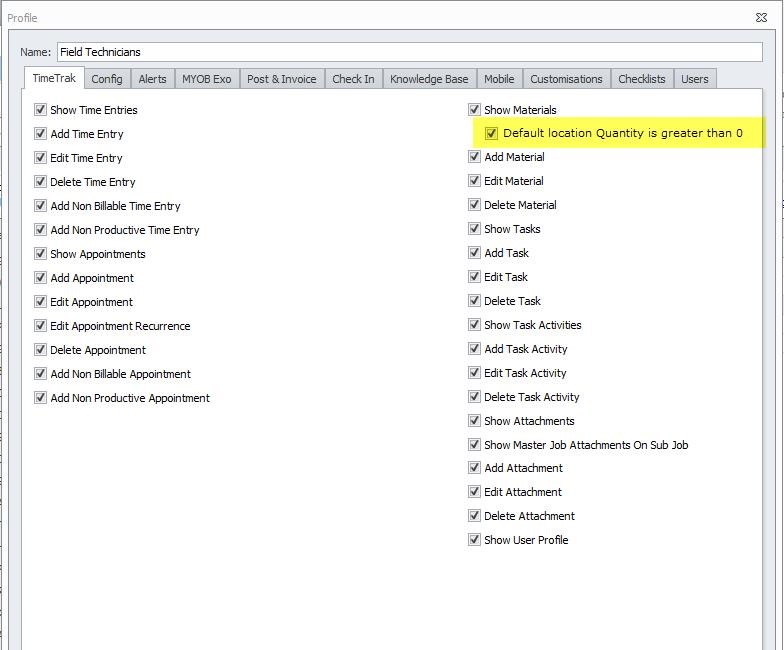 This new profile setting restricts the stock list available to only stock in the user's default stock location, which is set up in the User Set up menu, and where the stock for the default location has a quantity greater than zero.
A good example of how this setting would be useful is when the Mobile Users have their own 'car/ van' that is its own stock location in Exo.
When assigning materials to the job, they will only be able to select available stock from their 'car/ van' stock location.
This is a huge benefit if your stock list includes many stock items with similar names or stockcodes, or you want the team to only use what they physically have in a vehicle.
Please make sure that MYOB Exo reflects the correct quantities of stock in the correct stock location before the user needs the stock otherwise they will not see that stock item as available to consume on a job.
If you have any further questions please contact the TimeTrak team via email: support@timetrak.co.nz or phone NZ: 0800 12 00 99 AU: 1800 60 80 77