TimeTrak Professional
 What can TimeTrak do for you?
TimeTrak is an online job management system that takes the stress out of running your business. Using TimeTrak, you can minimise the manual processes and inefficiencies that your business faces.
Easily track your team and their scheduled work from anywhere. TimeTrak Professional is a flexible system that is supported for use on a desktop.
Keep track of your projects, jobs and staff.
Schedule jobs with TimeTrak
Easily schedule work to your team, ensuring they are in the right place at the right time. TimeTrak's workgroup views allow you to plan out time or easily check various team workloads.
Keep track of your jobs or tasks with TimeTrak
Track job or task progress in real-time wherever you are. Using our desktop or mobile views, you can manage your team and jobs with ease.
Manage billable and non-billable parts with TimeTrak
You can manage and monitor labour, contractors and equipment easily using TimeTrak. Add a serviceable unit against jobs or tasks to monitor their whereabouts.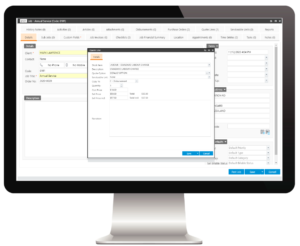 A job management system that works for you.
Manage individuals and teams
Easily manage workgroups and teams of staff with the TimeTrak Professional calendar. You can schedule jobs or tasks to individuals or teams with ease and greater visibility. Using our geo-scheduling feature you can track the whereabouts of staff or client's businesses so you can schedule the closest team member to the job.
Find out more about Scheduling
Create accurate quotes in the office or in the field
Remove the complexity of creating quotes for clients by using TimeTrak's quoting feature. Add labour, materials and travel, and send your quote to your client in just a few clicks. Our quoting system enables you to have full visibility of how a project is tracking meaning you can compare the current cost of a project with the quoted value at the click of a button.
Find out more about Quoting
Access client information wherever you are
Field staff can easily access site information, including history notes, schematics, part lists or other important information necessary to do a job.
Find out more about Knowledgebase
Simple and fast invoicing
Using TimeTrak, your field team can access all the required administrative information, do the job, record their time and materials used, and even bill out the job while still on-site.
Find out more about Invoicing
Benefits

Accounting Integration
---
Time and materials will be synchronised with your ERP system, streamlining your billing process and saving you administrative time.

Accurate Job Information
---
Powerful job scheduling software that ensures the right person always turns up for the right job at the right time.

Access anywhere
---
Generate reports based on jobs, clients, materials, assets or staff members. Keep up to date with what is going on in your company.

Business Reporting
---
Easily create reports based on jobs, clients, materials, resources or team members. You'll have a clear vision of your business.

Easy to Use
---
You'll be up and running with little training thanks to our simple design and great features.

Scalable
---
No matter the size of your business, we can tailor our solution to fit your business.

Service Coordination
---
Empower your team with full visibility of jobs, tasks, staff and schedules.

Team Collaboration
---
Get better team communication through our centralised hub. You can ask, answer, write, comment or search – all the information you need in one place.